Affordable Sheds + Financing = A Shed for EVERY Budget!
We want everyone to have the opportunity to organize their lives and protect their possessions. That's why we look for ways to keep our sheds affordable for a range of budgets.
For those who have a tight shed budget, watch cash flow carefully, or prefer paying a monthly payment instead of a few lump sum payments, we offer:
Professionally Installed Basic, Semi-Customizable Sheds
Customizable Do-It-Yourself Sheds *NEW
Prebuilt Stock Sheds
Clearance Sheds
Factory-Direct Pricing (forget the middle man!)
Payment Options Including 0% Financing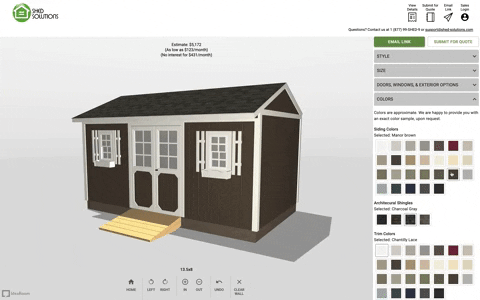 Shed Solutions Showroom Hours
As COVID-19 continues to impact local communities, we wanted to let you know the following measures Shed Solutions has put in place to help ensure the health of our employees, customers and industry stakeholders as well to help do our part to contain the spread of this virus.
Shed Solutions has implemented a strict cleaning regiment on top of our regularly scheduled cleaning routines. At this time Shed Solutions showrooms remain open on an Appointment Only basis.
If you would like to book an appointment at one of our showrooms please call your local Shed Solutions office to book a time. We will block off a 1 hour time slot for you and your family member(s) to visit a showroom to view our sheds and discuss with a product specialist. During your visit to the Shed Solutions showroom appropriate "social distancing" measures will be practiced.
Additionally, Shed Solutions has new ways to quote your job safely.
Virtual Appointments Now Available
Accurate, Contactless Quoting Service
Contact Us Today to Discuss How
Virtual Appointments Now Available
Shed Solutions has new ways to quote your job safely. We are now accepting requests for virtual in home consultations. One of our product specialists will connect with you remotely via FaceTime or Skype to discuss your storage requirements and view your jobsite.
We are also still offering our standard in home consultations where we will practice "social distancing" throughout the appointment.
The choice is yours! We will serve you however we can!