Do It Yourself Garden Sheds
---
Resin Sheds by Suncast
• Multi-wall panels are engineered for strength and durability
• All weather construction provides water resistance and UV protection for up to 10 years
• Perfect for all of your large-scale storage needs
• Low maintenance – easy to clean and maintain
• Easy assembly – minimal tools required
• 2 adjustable corner shelves included for additional storage space
• Large door windows
• Classic shed design with architectural details and metal-reinforced shingle-style roof panels
• Functional vents for air circulation
• Foundation required
• 10 Year Limited Warranty
Available in:
• 8′ x 4′
• 8′ x 7′
• 8′ x 10′
• 8′ x 13′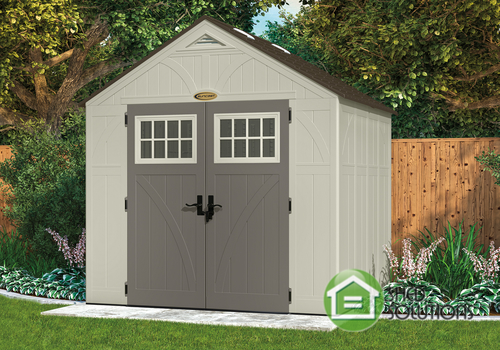 Galvanized Steel Sheds by Arrow Storage Products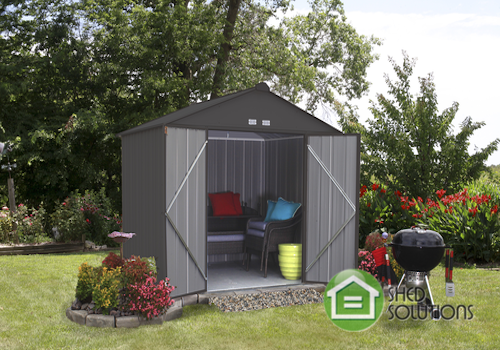 Faster and Easier Assembly with Snap-IT Speed up the assembly process with Snap-ITTM! With up to 50% fewer fasteners compared to standard Arrow sheds, the EZEE Shed® assembles easily in up to half the time.
Galvanized Steel for Corrosion Resistance and Improved Bonding for a Stronger Shed. This 100% galvanized steel shed is built strong and features the Snap-ITTM assembly system's unique bonding method which strengthens the unit for a stronger shed.
Stylish Design and Charcoal Colour
Low Gable Roof and Vents. Gable vents improve ventilation and air circulation within the unit.
Improved Roof Assembly Process. The roof is assembled on the ground for faster, easier roof-to-wall attachment.
Framed Swing Door. Pad-lockable door to secure belongings and provide easy entry and exit of large items in addition to front wall storage.